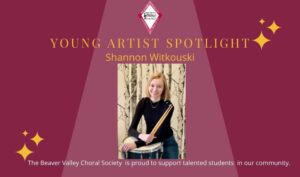 The Beaver Valley Choral Society is proud to support talented students in our community. Our first honoree for the new Young Artist Spotlight, is our very own Shannon Witkouski.
Shannon has not let a worldwide pandemic slow down her music making. A High School Apprentice with the Beaver Valley Choral Society, and a junior at Beaver Area High School, Shannon recently placed first in the Pennsylvania Music Educators Association's  All-State Jazz Ensemble on vibraphone. She is the first student representing Beaver in over 10 years to qualify in that division, and is also the only female in the 17-member ensemble. Additionally, Shannon qualified on percussion for honors band, district band, district and regional orchestra, and qualified to audition for All State Orchestra.  Because of these achievements, she is now eligible to audition for the National Association for Music Education's All East Honor Ensemble .
Shannon has been accepted to Carnegie Mellon University's Pre-College Music Program for a second summer, and is also preparing for her upcoming auditions for summer music programs at West Virginia University and Penn State Honors Music Institute. She is a student of PJ Gatch at Westminster College, where she also studies music theory and has been invited to play with the Westminster College Percussion Ensemble.
The BVCS is proud to call Shannon "one of our own", as she is an active High School Apprentice, performing in regular season with the BVCS Orchestra and Choir, and participating in our historic first Virtual Ensemble project in November 2020, entitled You'll Never Walk Alone (with Climb Ev'ry Mountain), arranged by Joseph M. Martin.
We extend our congratulations and best wishes to Shannon Witkouski on your accomplishments and achievements! We can't wait to see what is next in store for you! We look forward to making music in person again with you!