The Beaver Valley Choral Society have been invited as a special guest to perform Christmas carols for "Christmas in July" fundraising event at the historical 1876 Thompson House in East Liverpool, Ohio.  The music and movie event will take place on Saturday, July 22.
All proceeds raised will go towards supporting the maintenance and upkeep of this Victorian mansion built by pottery magnate C.C. (Cassius Clark) Thompson, owner of the former C.C. Thompson Pottery Co. The Thompson House is listed on the National Register of Historic Places. The Thompson House is located at 305 Walnut St. in East Liverpool, Ohio.
In addition to the holiday music and movie entertainment, there will be a raffle for a century old C.C. Thompson water pitcher, limited edition porcelain Thompson House Christmas ornaments for sale, tours by trustees of the Thompson House, festive milkshakes made by 'The Milk Shakers', and even an ugly Christmas t-shirts contest and drawing for a "Meet Me In St. Louis" movie-themed gift basket.
Cost is $10 for adults and $5 for children 12 and under. Movie goers are encouraged to bring their own lawn chairs or blankets Popcorn and beverages will be available, and you can bring a picnic basket of goodies to enjoy during the entertainment.
Tours and musical performances will be happening from 7:30 to 8:30pm and the movie will begin at 9pm.
For further updates, please check out their Facebook site "The Historical 1876 Thompson House of East Liverpool, Ohio".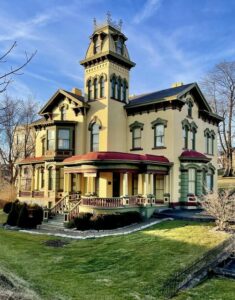 Thompson House – East Liverpool, OH