BEAVER VALLEY CHORAL SOCIETY INVITED TO PERFORM WITH PEPPER CHOPLIN AT CARNEGIE HALL
Distinguished Concerts International New York City (DCINY) recently announced today that the Beaver Valley Choral Society had auditioned and been invited to participate in a performance of Pepper Choplin's Seven Noels on the DCINY Concert Series in New York City. The performance will take place in Isaac Stern Auditorium at Carnegie Hall on Monday, November 28, 2022 under the baton of Pepper Choplin. These outstanding musicians will join with other choristers to form the Distinguished Concerts Singers International, a choir of distinction. Maestro Choplin will serve as composer in-residence and conductor of the performance, as well as clinician for the residency.
Ten members of the BVCS, along with 5 distinguished guests, will be travelling to New York City on November 25th to begin an intense 3-day preparation for this once in a lifetime opportunity.  Our singers will participate in two days of practice and musical clinics while at Carnegie Hall, all culminating in an exciting performance on November 28th of Pepper Choplin's The Seven Noels.  Following the concert, our performers and patrons will celebrate with a reception and dinner.
We are very proud and honored to be able to participate in this event at such a prestigious venue under the direction of Mr. Choplin.  Not only will it be an exciting opportunity for those in attendance, but it further recognizes the Beaver Valley Choral Society as an outstanding and distinguished musical organization, providing our audiences and community with unsurpassed musical experiences.
Congratulations to all that will be attending this special event.  Best of luck, and the BVCS is so very proud of your accomplishment and the impact of what your performance will have on the Society.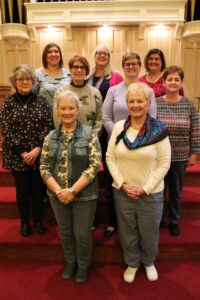 PERFORMERS
Tessa Begley

Diane Brosius
Penny Chevront
Betsy Hemer Cole
Judi Contino
Marjorie Eggenberger
Pam George
Susan Hayden
Christy Kendra
Judy O'Data
VIP GUESTS
Larry Bosius
Judy Yester
Sam Contino
Fred Persi
Jon O'Data
For more information about the Distinguished Concerts International New York City (DCINY) organization, visit: www.dciny.org